Hey blog friends,
It's been a few days since I've posted. This third trimester is no joke when it comes to depleting your energy. But I'm back with a new post that I'm excited to share!
So far, you know how I have been feeling about maternity clothing. With the exception of one or two stores, I just haven't been impressed with what I have seen so far and have instead opted to work with brands I love to bring fashion throughout this journey.
I teamed up with one of my absolute favorite brands - Fashion to Figure - this week to bring you maternity looks that don't have to feel silly (If I see one more t-shirt with a silly slogan like "you're kickin me smalls," I'm gonna scream!). It's been important to me to still feel like myself and not feel like I've had to only wear mumus (although, don't get me wrong, they're comfortable as hell).
First up is this adorable dress from their new "Summer in Paris" collection. The piece is so lightweight and comfortable, I will definitely be rocking it more as the weather gets warmer.
Allow me to take a minute to jump on my soapbox for a minute here -- It can't be stressed enough how pregnancy can be overwhelming -- it's exciting and thrilling and a dream come true, but at the same time, it's scary to think about how your life will change. Everything changes on your body in what seems to be overnight. The LEAST we can offer pregnant women are beautiful clothes that accommodate her body before, during and after the maternity phase.
That's honestly why I have been so happy to work with FTF. While they aren't a maternity brand, they have gone above and beyond to help me find looks that would work for me and fit me as my body has changed. We all work hard and shouldn't have to spend our money on things you will only use for a few months on things and then have to toss away. I've been super strategic in my choices and I'm looking forward to wearing these pieces even after my little guy arrives.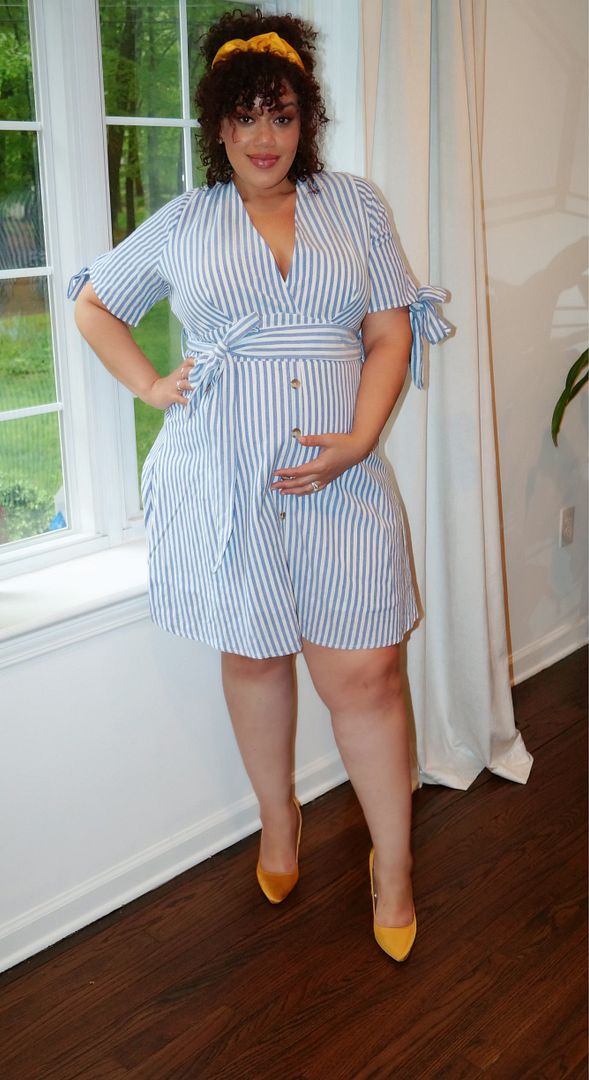 A note on sizing -- I ordered my normal size because of the A-line cut of this dress and the stretch it had in the back. It fit perfectly.
Stay tuned over the next few days for more looks from Fashion to Figure.
Shoes + headband: My closet

This post is sponsored by Fashion to Figure. All opinions, selections and styling are my own.