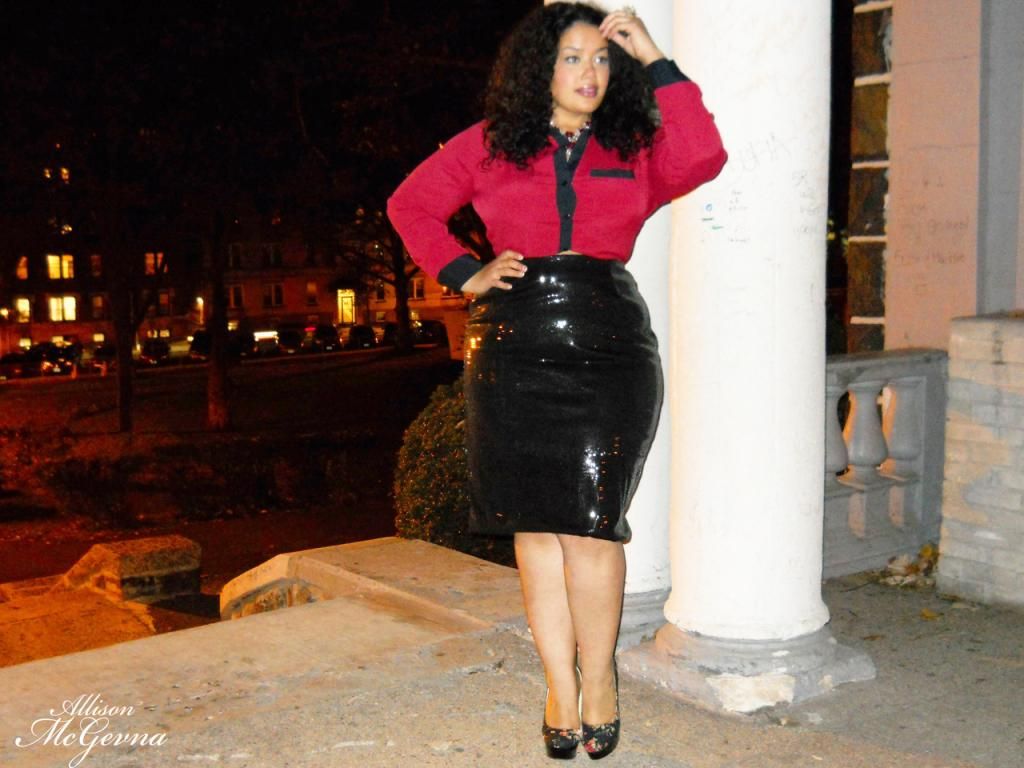 Happy Wednesday my dears. Today's post hopefully brings a little brightness into your life with my amazing new sequin skirt from Igigi and my oxblood (ugh, I just can't get used to calling "maroon" oxblood) button down top from Ulla Popken.
I had a pretty important informal business meeting last night at a local art show I attended, where I was meeting someone that I wanted to impress professionally. Sometimes I hate those meetings where you have to be introduced to someone at an event because it can be tough to stand out when you're one of many people they are meeting that night. But when I met said power woman, the first thing she said to me was "I love your outfit." Step one of mission accomplished.
Anyway, I won't bore you with anymore details (but just know I drank a lot of wine, ate a lot of cheese and forgot pretty much everyone's name other than power-woman), but I will tell you more about my outfit.
So, skirts can be a challenge if you're hippy, especially when it seems like every pencil skirt hits above the knee. Seriously, why is that? Any woman with hips above a size 8 is probably going to have the skirt ride up as she walks and then before you know it, your pencil skirt is a mini. No bueno. But enter Igigi to the rescue. This beautiful tailored pencil skirt hits at just the right length and stayed in its rightful place all night. The lining was a little funny at the bottom occasionally, but other than that, I was 100 percent impressed. Order a size down for optimal fit.
If you're wondering, yes, those are my flats that I forgot to kick out of the way in the background. Doh!
I decided to pair it with a very on-trend color right now (yes, oxblood, aka a fancy and gross way of saying maroon). This button down blouse from Ulla Popken gave the skirt, which was super dressy, a more business feel to it. Being a relaxed fit, I opted to tie the shirt in the back. I had to be aware of a little skin showing this way, but it ended up being a nice alternative to tucking it in and getting those horrible lines under the skirt. And, it was super breathable as so.
I'm also giving my post-haircut curls a break and trying to avoid putting product in them to let them breathe. My job puts so much wear and tear on my poor curls because I am always straightening and combing and teasing excessively. So in my normal life, it's time to give it a break and wear it natural and product-free. What do you guys think?
Shoes: Macy's (older)
Necklace & Ring: Forever 21